April 21, 2010

Dear Friends,

As one of my occasional series of John Muir birthday messages, celebrating anniversaries of Muir's birth on April 21, 1838, on his 172nd, I send the following excerpts from Muir's description of the Water Ouzel (also known as the American Dipper (Cinclus Mexicanus)). It is a good example of Muir's skills in natural history.

In the 1870s, Muir became known because of his nature writings that appeared in popular magazines. Muir Biographer, William Frederic Badè said this about Muir's writing and this text in particular:



"[H]owever much he chafed and groaned under the necessity of meeting his contracts for articles, the remarkable series which he wrote during the late seventies for 'Harper's Magazine' and 'Scribner's Monthly' are conclusive demonstrations of his power. Among them was 'The Humming-Bird [Water-Ouzel]of the California Waterfalls' [Scribner's, 1878]which loaded his mail with letters from near and far, and evoked admiration from the foremost writers of the time." Badé,

The Life and Letters of John Muir

, Chapter XIII (Houghton Mifflin Company, Boston and New York, 1924) [Available at

http://www.sierraclub.org/john_muir_exhibit/life/life_and_letters/chapter_13.html

].


Muir's article was included as Chapter 13 in The Mountains of California, from which these excerpts are taken.

Richard Cellarius
Prescott, AZ


---
Excerpts from John Muir, The Water-Ouzel in The Mountains of California, New York, The Century Co., 1894 Chapter 13 [Available at http://www.sierraclub.org/john_muir_exhibit/writings/the_mountains_of_california/chapter_13.html]: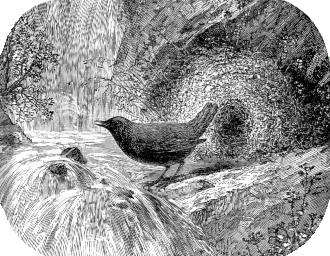 THE waterfalls of the Sierra are frequented by only one bird, --the Ouzel or Water Thrush (Cinclus Mexicanus , Sw.). He is a singularly joyous and lovable little fellow, about the size of a robin, clad in a plain waterproof suit of bluish gray, with a tinge of chocolate on the head and shoulders. In form he is about as smoothly plump and compact as a pebble that has been whirled in a pot-hole, the flowing contour of his body being interrupted only by his strong feet and bill, the crisp wing-tips, and the up-slanted wren-like tail.

Among all the countless waterfalls I have met in the course of ten years' exploration in the Sierra, whether among the icy peaks, or warm foot-hills, or in the profound yosemitic cañons of the middle region, not one was found without its Ouzel. No cañon is too cold for this little bird, none too lonely, provided it be rich in falling water. Find a fall, or cascade, or rushing rapid, anywhere upon a clear stream, and there you will surely find its complementary Ouzel, flitting about in the spray, diving in foaming eddies, whirling like a leaf among beaten foam-bells; ever vigorous and enthusiastic, yet self-contained, and neither seeking nor shunning your company.

If disturbed while dipping about in the margin shallows, he either sets off with a rapid whir to some other feeding-ground up or down the stream, or alights on some half-submerged rock or snag out in the current, and immediately begins to nod and courtesy like a wren, turning his head from side to side with many other odd dainty movements that never fail to fix the attention of the observer.
He is the mountain streams' own darling, the humming-bird of blooming waters, loving rocky ripple-slopes and sheets of foam as a bee loves flowers, as a lark loves sunshine and meadows. Among all the mountain birds, none has cheered me so much in my lonely wanderings, --none so unfailingly. For both in winter and summer he sings, sweetly, cheerily, independent alike of sunshine and of love, requiring no other inspiration than the stream on which he dwells. While water sings, so must he, in heat or cold, calm or storm, ever attuning his voice in sure accord; low in the drought of summer and the drought of winter, but never silent.

During the golden days of Indian summer, after most of the snow has been melted, and the mountain streams have become feeble—a succession of silent pools, linked together by shallow, transparent currents and strips of silvery lacework—then the song of the Ouzel is at its lowest ebb. But as soon as the winter clouds have bloomed, and the mountain treasuries are once more replenished with snow, the voices of the streams and ouzels increase in strength and richness until the flood season of early summer. Then the torrents chant their noblest anthems, and then is the flood-time of our songster's melody. As for weather, dark days and sun days are the same to him. The voices of most song-birds, however joyous, suffer a long winter eclipse; but the Ouzel sings on through all the seasons and every kind of storm. Indeed no storm can be more violent than those of the waterfalls in the midst of which he delights to dwell. However dark and boisterous the weather, snowing, blowing, or cloudy, all the same he sings, and with never a note of sadness. No need of spring sunshine to thaw his song, for it never freezes. Never shall you hear anything wintry from his warm breast; no pinched cheeping, no wavering notes between sorrow and joy; his mellow, fluty voice is ever tuned to downright gladness, as free from dejection as cock-crowing.
…
One wild winter morning, when Yosemite Valley was swept its length from west to east by a cordial snow-storm, I sallied forth to see what I might learn and enjoy. A sort of gray, gloaming-like darkness filled the valley, the huge walls were out of sight, all ordinary sounds were smothered, and even the loudest booming of the falls was at times buried beneath the roar of the heavy-laden blast. The loose snow was already over five feet deep on the meadows, making extended walks impossible without the aid of snow-shoes. I found no great difficulty, however, in making my way to a certain ripple on the river where one of my ouzels lived. He was at home, busily gleaning his breakfast among the pebbles of a shallow portion of the margin, apparently unaware of anything extraordinary in the weather. Presently he flew out to a stone against which the icy current was beating, and turning his back to the wind, sang as delightfully as a lark in springtime.
…
What may be regarded as the separate songs of the Ouzel are exceedingly difficult of description, because they are so variable and at the same time so confluent. Though I have been acquainted with my favorite ten years, and during most of this time have heard him sing nearly every day, I still detect notes and strains that seem new to me. Nearly all of his music is sweet and tender, lapsing from his round breast like water over the smooth lip of a pool, then breaking farther on into a sparkling foam of melodious notes, which glow with subdued enthusiasm, yet without expressing much of the strong, gushing ecstasy of the bobolink or skylark.

The more striking strains are perfect arabesques of melody, composed of a few full, round, mellow notes, embroidered with delicate trills which fade and melt in long slender cadences. In a general way his music is that of the streams refined and spiritualized. The deep booming notes of the falls are in it, the trills of rapids, the gurgling of margin eddies, the low whispering of level reaches, and the sweet tinkle of separate drops oozing from the ends of mosses and falling into tranquil pools.

The Ouzel never sings in chorus with other birds, nor with his kind, but only with the streams. And like flowers that bloom beneath the surface of the ground, some of our favorite's best song-blossoms never rise above the surface of the heavier music of the water. I have often observed him singing in the midst of beaten spray, his music completely buried beneath the water's roar; yet I knew he was surely singing by his gestures and the movements of his bill.

His food, as far as I have noticed, consists of all kinds of water insects, which in summer are chiefly procured along shallow margins. Here he wades about ducking his head under water and deftly turning over pebbles and fallen leaves with his bill, seldom choosing to go into deep water where he has to use his wings in diving.
He seems to be especially fond of the larvæ of mosquitos, found in abundance attached to the bottom of smooth rock channels where the current is shallow. When feeding in such places he wades up-stream, and often while his head is under water the swift current is deflected upward along the glossy curves of his neck and shoulders, in the for of a clear, crystalline shell, which fairly incloses him like a bell-glass, the shell being broken and re-formed as he lifts and dips his head; while ever and anon he sidles out to where the too powerful current carries him off his feet; then he dexterously rises on the wing and goes gleaning again in shallower places.

… The following may be regarded as a fair illustration of his power of sub-aquatic flight. One stormy morning in winter when the Merced River was blue and green with unmelted snow, I observed one of my ouzels perched on a snag out in the midst of a swift-rushing rapid, singing cheerily, as if everything was just to his mind; and while I stood on the bank admiring him, he suddenly plunged into the sludgy current, leaving his song abruptly broken off. After feeding a minute or two at the bottom, and when one would suppose that he must inevitably be swept far down-stream, he emerged just where he went down, alighted on the same snag, showered the water-beads from his feathers, and continued his unfinished song, seemingly in tranquil ease as if it had suffered no interruption.
The Ouzel alone of all birds dares to enter a white torrent. And though strictly terrestrial in structure, no other is so inseparably related to water, not even the duck, or the bold ocean albatross, or the stormy-petrel. For ducks go ashore as soon as they finish feeding in undisturbed places, and very often make long flights overland from lake to lake or field to field. The same is true of most other aquatic birds. But the Ouzel, born on the brink of a stream, or on a snag or boulder in the midst of it, seldom leaves it for a single moment. For, notwithstanding he is often on the wing, he never flies overland, but whirs with rapid, quail-like beat above the stream, tracing all its windings. Even when the stream is quite small, say from five to ten feet wide, he seldom shortens his flight by crossing a bend, however abrupt it may be; and even when disturbed by meeting some one on the bank, he prefers to fly over one's head, to dodging out over the ground. When, therefore, his flight along a crooked stream is viewed endwise, it appears most strikingly wavered--a description on the air of every curve with lightning-like rapidity.

The vertical curves and angles of the most precipitous torrents he traces with the same rigid fidelity, swooping down the inclines of cascades, dropping sheer over dizzy falls amid the spray, and ascending with the same fearlessness and ease, seldom seeking to lessen the steepness of the acclivity by beginning to ascend before reaching the base of the fall. No matter though it may be several hundred feet in height he holds straight on, as if about to dash headlong into the throng of booming rockets, then darts abruptly upward, and, after alighting at the top of the precipice to rest a moment, proceeds to feed and sing. His flight is solid and impetuous, without any intermission of wing-beats, --one homogeneous buzz like that of a laden bee on its way home. And while thus buzzing freely from fall to fall, he is frequently heard giving utterance to a long outdrawn train of unmodulated notes, in no way connected with his song, but corresponding closely with his flight in sustained vigor.

Even so far north as icy Alaska, I have found my glad singer. When I was exploring the glaciers between Mount Fairweather and the Stikeen River, one cold day in November, after trying in vain to force a way through the innumerable icebergs of Sum Dum Bay to the great glaciers at the head of it, I was weary and baffled and sat resting in my canoe convinced at last that I would have to leave this part of my work for another year. Then I began to plan my escape to open water before the young ice which was beginning to form should shut me in. While I thus lingered drifting with the bergs, in the midst of these gloomy forebodings and all the terrible glacial desolation and grandeur, I suddenly heard the well-known whir of an Ouzel's wings, and, looking up, saw my little comforter coming straight across the ice from the shore. In a second or two he was with me, flying three times round my head with a happy salute, as if saying, "Cheer up, old friend; you see I'm here, and all's well." Then he flew back to the shore, alighted on the topmost jag of a stranded iceberg, and began to nod and bow as though he were on one of his favorite boulders in the midst of a sunny Sierra cascade.
…
Such, then, is our little cinclus, beloved of every one who is so fortunate as to know him. Tracing on strong wing every curve of the most precipitous torrents from one extremity of the Sierra to the other; not fearing to follow them through their darkest gorges and coldest snow-tunnels; acquainted with every waterfall, echoing their divine music; and throughout the whole of their beautiful lives interpreting all that we in our unbelief call terrible in the utterances of torrents and storms, as only varied expressions of God's eternal love.